Discover more from Tony Dinh's Newsletter
Monthly updates about my indie hacking journey, what I have built and learned.
Over 8,000 subscribers
Sep 2022: I'm on Indie Hackers Podcast!
Also in September: $12K MRR, built a small new app, SEO, and other updates...
Hello everyone! Tony here 👋
This is another monthly update from my indie hacking journey.
Here are what happened in September 2022:
🎙️ I'm on Indie Hackers Podcast!
The podcast episode is out! You can listen to it on the Indie Hackers Podcast in the link below.
In the episode, we talked about growing up in Vietnam, quitting job, failed vs successful side projects, growing via Twitter, and managing multiple projects that add up to $18,000 in monthly revenue with Courtland (@csallen) and Channing (@ChanningAllen).
💡 Testing a new small idea
Last week, I built a new small little app. It took me about 2 days.
This macOS app will help you look up frequently used commands (powered by Open AI's Codex).
The best way to describe this is… to go watch the demo on the website 😄
This tweet with the demo went viral on Twitter! 👇
I've been using this in the past weeks, and it's been very helpful for me!
If you are reading this, feel free to use this license key with 100 credits in it to try out the app for free:
ZTKMN-BLDQQ-AZLUE-HQDZJ-HPECR
Not sure if this app will be a big thing or not 😄
Let me know if you find it helpful!
📈 $12K MRR, 50K followers
In September, Black Magic reached $12K MRR.
This is 120% higher than my original goal for 2022.
I also reached 50K followers. This is 50% of my goal for 2022 😅
To be honest, at this point, I don't have any new insights to share on how it gets from $10K → $12K.
Despite telling myself to do more marketing every day, I just always end up not doing it…
At the moment, Black Magic has ~60 new users every day at about a 2% conversion rate.
Most of the new users came from my Twitter or other people's Twitter when they mentioned or recommended @blackmagic_so.
I think I have created a product that markets itself.
Just this morning, I posted a thread about this. It could be helpful for you:
A recent podcast episode I listened to also discussed this topic, I highly recommend:
🔍 A surprise with SEO
An interesting update from Glance. Huge traffic from SEO.
How it gets there:
Glance is a feature in Black Magic I created a few months ago. It's still in beta.
The purpose of it is to look up some interesting analytics from public accounts. For example, here is my Glance page for example:
At the end of each page, I got a bunch of links to other related accounts like this:
Google started to crawl and index these links. Which created a huge index and drove a lot of traffic from Google from keywords search.
When I looked at the keywords, I was surprised to learn that they are mostly about these topics:
the current war

politics

adult content

LGBT+
My best guess is that people are searching about these on Google a lot, and there are a lot of accounts on Twitter talking about these topics.
Glance happened to have them on the page, so it got the traffic.
At the moment, I don't know what to do with this type of traffic from Google yet. It has a super low conversion rate and high bounce rate. Definitely not something I want for the site.
All the accounts of interest from the traffic are controversial accounts, and some have already get banned by Twitter by the time I checked.
I kinda feel lucky that I did not include any of the accounts' tweets on Black Magic's page. Otherwise, I may get into real trouble 😅.
Be careful with user-generated/auto-generated content on your domain!
🤝 Working with freelancers
As shared in a previous issue, I started working with a freelance developer.
Things are working out great. We were able to find a workflow that works best for both of us (while being async!)
Some of the recent features of Black Magic are built by him, for example, this re-order UI:
When I shared this on Twitter, people were interested in how I work with the freelancer, so I made a short video with the answers:
(super low quality video, will try to improve over time 😂)
The goal of hiring a freelancer is to gain more free time for me to work on tasks that are more interesting. I find that it has been working very well!
Now I'm working on hiring a second freelancer to do work around content marketing (content writing, blog posts, design, etc.)
I hope this will work!
Will report back in next month's update 😄
🔨 People are building apps with Stable Diffusion
Over the past few weeks, I've been seeing indie hackers building new products with Stable Diffusion.
You can install Stable Diffusion on your computer. Super easy and free.
AI-designed interior by Pieter Levels: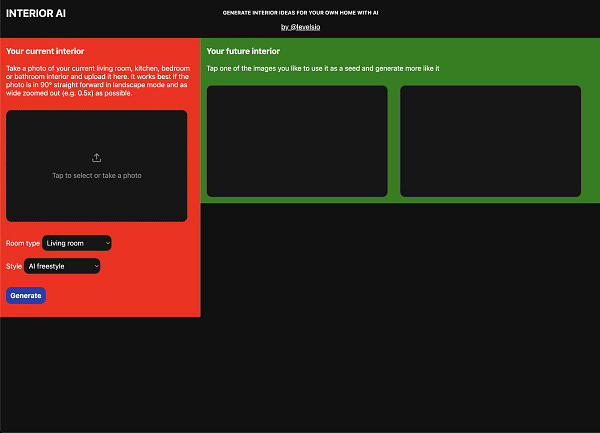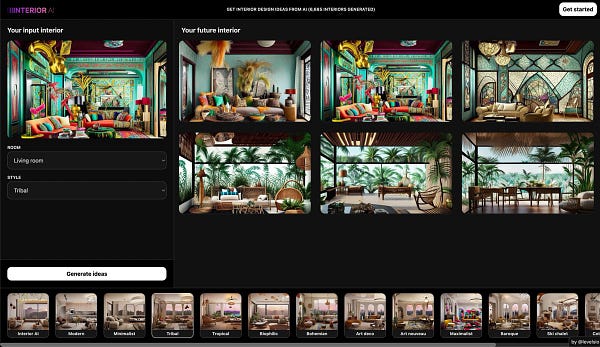 AI-generated stock images by Danny Postma:
I feel like the next big thing is right here, waiting to be built.
If I don't have any products to work on right now, I would totally spend all of my energy thinking of a few products with this technology.
If you are an indie hacker looking for ideas, don't sleep on this!
💫 Other small updates
If you ever curious about my salary as a software engineer in the past 7 years (before I quit my job), I have a tweet about that which went viral!

In last month's issue, I promised a recap of my one year as an indie hacker in video form. I didn't managed to do that, but I will!

I'm trying to get into the habit of producing video content on YouTube, and I already started making some short videos. See my channel here.
👋 That's all for now!
Thank you for reading and see you next month!
- Tony